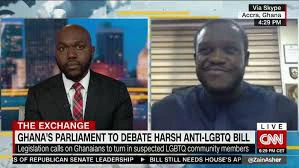 Presidential staffer, Nii Teiko Tagoe has said that he feels very sad yesterday when he watched Sam Nartey George, the member of parliament for Ningo Prampram Constituency who is the leading parliamentarian championing the criminalisation of LGBTQ++ activities in Ghana.
According to Nii Teiko Tagoe, the interview Sam George conducted yesterday on CNN was just a way to humiliate Ghana at the international front and he feels really very worried. He said this can be very dangerous for Ghana and it's international relations.
He questioned whether Sam George think everything in his bill was perfect to sit down side by side with those who disagree with the bill to go through the bill clause by clause and come up with something that is acceptable by all.
He expressed so much worry about how by Sam George's interview, CNN was able to denigrate Ghana to that level
"Wait, it is the case that Hon. Sam Dzata George and sponsor of the anti-LGBTQI+ believes everything in the bill is perfect and Lawyer Akoto Ampaw and those against the anti-LGBTQI+ Bill also saying everything in the Bill is wrong? So why can't the two sides sit together and go through the bill, clause by clause and come out with something that is acceptable to all? I watched CNN denigrate Ghana my beloved country last night and I'm worried" he wrote on his Facebook page.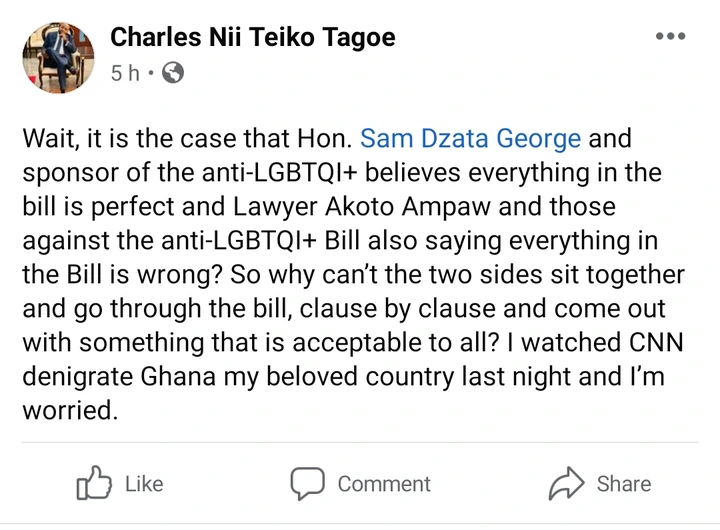 Newsflash