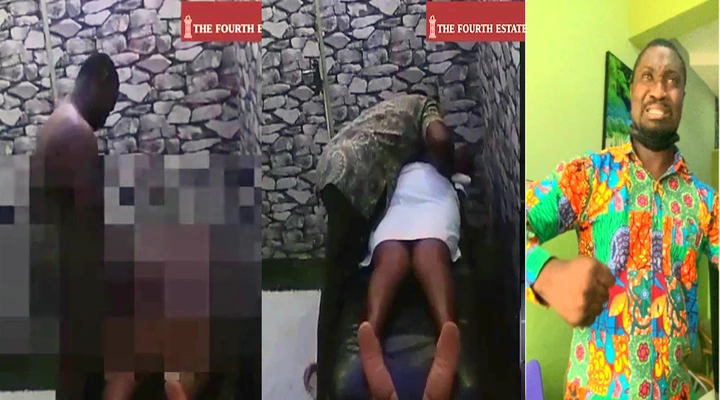 The Allied Health Professions Council has said the self-styled physiotherapist Dr Jonathan Ohene Nkunim"who has been arrested for using his facility as bait to sexually assault scores of women, has committed a number of offences."
In a statement signed by the Registrar of the Council, Dr Samuel Yaw Opoku, the council said Jonathan Nkunim violated section 21 of the Health Professions Regulatory Bodies (HPRB) Act, 2013 (act 857).
Read full statement below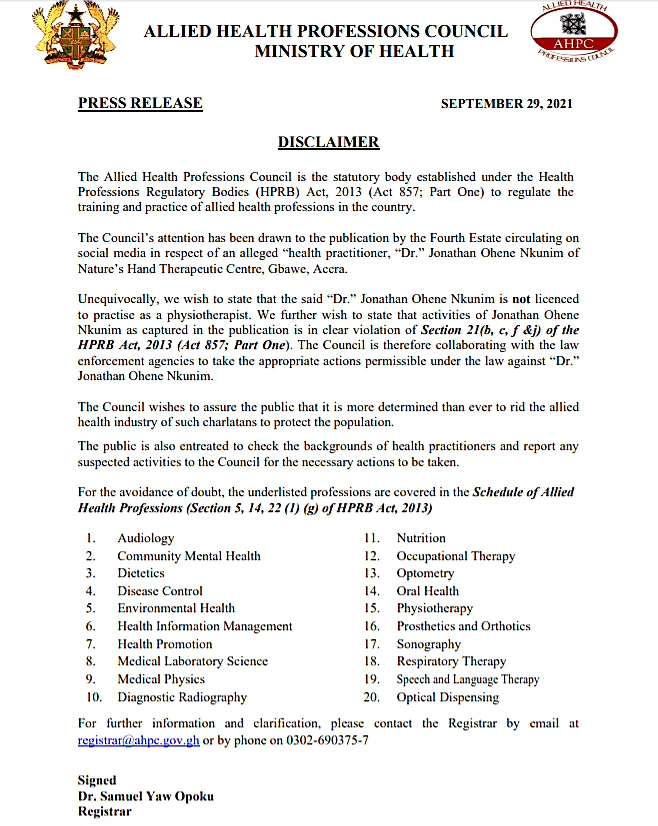 In an investigation that lasted over a year, The Fourth Estate spoke to women who had been sexually assaulted at Ohene Nkunim's Nature's Hand Therapeutic Centre.
One of the victims, a business woman narrates her story of how she was sexually abused when she and her husband went to Nature's Hand Therapeutic Centre to seek treatment of having a child.
According the woman, as part of the treatment Dr. Nkunim inserted a probe in her vagina and also massaged her private parts to sexually arouse her.
She said "Dr." Nkunim sent her husband out of the facility to "go and buy an iced block or something and I realised, though he didn't penetrate, it was more like he was trying to have sex with you. He was playing with me down there, getting me aroused and I wasn't feeling comfortable. According to him, that was the procedure."
After that incident, Dr Nkunim started making advances to her and eventually had sex with her without her consent.
She couldn't hide the truth, so she told her husband. Even though her husband forgave her, eventually, it broke their marriage.
Another victim by name Efua, narrates how the doctors had sex with her inside the facility when her husband was waiting in the other part of the room that has been separated by a wooden partition.
According to her, she had severe pains on her back and could not stand or walk. So she had to be carried by her husband to the facility. Dr Nkunim made her lie on a massage bed to massage her.
She said, "I noticed that he was actually massaging my buttocks and inserting his hand into my vagina. The next thing i knew, it was his penis. At that time I was at the point of desperation. I was in pain, I couldn't shout, I couldn't stop him actually because I didn't know what he was doing.
On the day of his arrest, Nkunim said three months earlier, he had taken steps to deal with his sexual desires and was now in control.
Sources at the police say he did not deny the allegations leveled against him when the police interrogated him. When he was asked how many women he had violated, he reportedly said he had lost count.
On Tuesday, September 28, 2021, Jonathan Ohene Nkunim was charged with rape when he made his first appearance in court.
He was denied bail and is due to reappear at the Kaneshie District Court, near the Ministry of Information, on October 12, 2021.
Watch the video below
JerrySuccess, NewsHub